Charging experience made simple: with power up to 158W, this PD strip can charge your Insta360, remote control for drones, laptops, tablets, and smartphones. Less is more: say bye to various chargers!
At once, Charge More, Wait Less:
Fast-charge Up to Four Devices
The three USB-C ports and one USB-A port power strip is with smart IC monitoring each port independently. This innovative feature allows for automatic voltage and current adaptation to meet the specific charging needs of your devices. The over power can be up to 158W.
Efficiently charge your mobile phones, laptops, tablets, earphones, and more all at once, reducing wait time. With four fast-charging ports, you can quickly charge your devices whether you're at home or on-the-go.
Charge at Your Call:
Enjoy Wider Compatibility with Ease!
The one-for-all design is to work seamlessly with popular fast-charging protocols like PD3.0, PPS, and QC.
You can easily charge various devices from brands like Apple, Samsung, Google Pixel, and Huawei.
Charge all your devices worry-free!
Stay Cool
Charge Smarter, Not Harder
This power strip features a full CNC aluminum frame that enhances its strength and thermal conductivity, surpassing ordinary die-cast aluminum.
The built-in intelligent thermal control system continuously monitors the temperature and automatically adjusts it to protect the device and the charger.
Our RC players can rest assured that your device is always safeguarded!
Light,
Charge Like a Lighting!
Geek for Geeks!
Behind the excellent appearance lies a rigorous standard of craftsmanship.
We use select high-standard chips, optimizing power density and energy conversion rate, resulting in a compact size and reduced power loss.
This condensed, powerful performance is a leap forward in quality, as its small size brings unprecedented portability.
Committed to Safety!
All the Time!
Our charger is made with high-quality materials inside and out, and features built-in safety protections to ensure stable, safe and fast charging.
Over-temperature
Protection
Charge Like a Pro:
A Must-have to Get Ahead of Charging Curve
PCH-150 is your perfect companion for the SkyRC T1000 and D200neo chargers. Its efficient XT60 DC input works with DC 12-24V voltage.
The charger and strip, mix and match as a team-up to upgrade your charging experience!
Plug n Charge
Unmatched compatibility
QC 18W
Samsung
HUAWEI
Google Pixel
PD 18W
iPhone 8 - iPhone 11
Please note that this test list pertains to specific product models and software versions, and its performance may vary with version upgrades.
We are Certified,
We are Qualified!
Our products are designed, tested, and approved to meet worldwide standards for Product Safety, Electromagnetic Compatibility, and other regulatory compulsory requirements.
They are intended for use in accordance with their designated purpose.
Specifications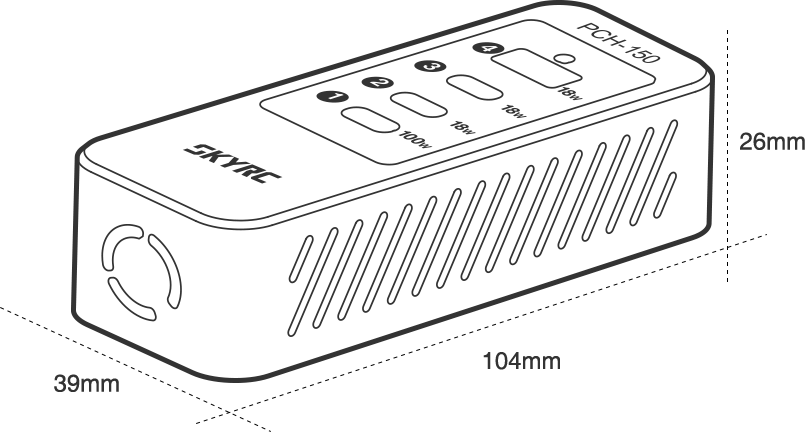 Size: 104x39x26mm
Weight: 144g
Input
Input Port: XT60
Operating Voltage: DC 12-24V

OutPut
USB-C1
: 5V 3A;9V 3A;12V 3A;15V 3A;20V 5A, 100W max.
USB-C2
: 5V 3A;9V 2.2A;12V 1.67A, 20W max.
USB-C3
: 5V 3A;9V 2.2A;12V 1.67A, 20W max.
USB-A
: 5V 3A;9V 2A;12V 1.5A, 18W max