SkyRC PC2500 is an intelligent charger that integrates CAN communication for smart batteries and ordinary lithium batteries. It can connect four batteries at the same time. The charger's maximum output power is up to 2500W, with three modes: Fast(Fast Charge), Charge(Slow Charge), Storage. The charger can recognize the batteries with customized CAN communication instantly.
Charging is convenient and straightforward with a better user experience.
Intuitive Interface
Routine charging is made easy by the simple and intuitive interface with the operation procedure simplified. Users only need to select Fast(Fast Charge)/Charge(Slow Charge)/Storage and press the Start button to get the job started.
LCD
Display
Real-time data at
a glance!
During the charging process, the screen displays charging time, battery percentage, and every single cell's voltage in real-time.
LCD
Display
Real-time data at
a glance!
During the charging process, the screen displays charging time, battery percentage, and every single cell's voltage in real-time.
High Performance on
Four Channels
A 16000 mAh battery can be fully charged in 15 minutes: charging time is saved significantly and charging efficiency is improved. With high power on four channels, four batteries can be charged simultaneously in slow charge mode at a maximum charging power of 2500W with the AC input 220V.*
*If the voltage is lowered to 120V, the power will be reduced to no more than 1200w.
CAN Bus Ready
PC2500 charger comes with the built-in CAN Bus communication. It can charge both smart batteries and common lithium batteries with balance ports in different circumstances.
Battery Life Extended
with Pre-charge
The charger can detect the battery pack's overall voltage through the balance port and intelligently adjust the charging current according to the battery voltage.
English-Chinese Interface
The language can be switched between English and Chinese freely to allow the charger to be used worldwide.
Optimized Design
through the Convection
Air Duct
The wing blade design reduces noise, provides high-wind performance, and significantly improves heat dissipation efficiency.
Effectively filtering
dust and sediment
with a high-quality ventilator
Ventilators are mounted at the end of the fan convection. They are detachable which are easy to remove and clean: dust, sand, and other harmful substances are effectively filtered.
Covering the charging ports with the premium and environment-friendly rubber cover while not in use can avoid corrosion and oxidation and extend the lifespan.
Rubber Cover: better protection for the
charging port
PC2500 is highly optimized in structure, pursuing a better volume-to-power ratio. In a compact size, the charger powerful and easy to carry.
Innovative Circuit Design
and More Optimized Algorithm
Efficiency is significantly improved, and reliability gets increased. Stability and durability are ensured through the stunning modular industrial design, considerate space layout, and selection of well-known brand components.
Better Protection with Conformal Coating
Anti-corrosion paint is applied to protect the key circuit's electronic components from extreme environments like moisture, mildew, and smoke corrosion. The charger's reliability and stability are ensured for outdoor work.
Universal AC input
Innovative active PFC
Industrial-grade Power Management
Conversion Rate: UP to 93%
Active PFC uses a circuitry to correct the amount of power drawn to obtain the best ratio of power factor, achieving high efficiency, 93%. Which makes the product more stable and reduces the interferences to the
power grid.
No PFC Circuit
Output Conversion Rate:
70%
PC2500 with PFC Circuit
PFC Output Conversion Rate:
93%
Great Technical Support
With years' expertise in power systems and accumulated architectural improvement, the software has been optimized to make the charger output current more stable and reliable.
Multiple Protection
Short Circuit Protection
Reverse Polarity Protection
Over-temperature Protection
Customers can rest assured of our quality safety and reliability.
SPECIFICATIONS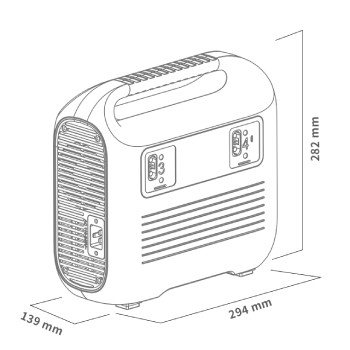 Housing Material: Plastic (Flame Retardant PC+ABS)
Size: 294mmx139mmx282mm
Weight: 5.6Kg
AC Input: 100-240V
Charging Power:
AC220V:2500W
AC120V:1200W
Type:Lithium Battery
LiPo Battery Cells: 12S/14S
LiHV Battery Cells:12S
AC 220V
Fast Charge Current: max. 45A single channel
Slow Charge Current: max. 20A single channel; max. 45A multi channels in total


AC 120V
Fast Charge Current: max. 1200W single channel
Slow Charge Current: max. 20A single channel; max. 1200W multi channels in total


Storage Discharge Power
Main Port: 75W Max.
Balance Port: 80W Max. (The current will be adjusted based on the balance port's temp)


Max Charge Output Power
AC220V Output Power: 2500W
AC120V Output Power: 1200W


Discharge Power:60W
Charging Mode:Fast Charge, Slow, Storage
Working Temperature: 0℃-40℃
Working Humidity: 0%-75%
Storage Temperature: -10℃-70℃
Storage Humidity: 0%-75%