T100 DUAL
BALANCE CHARGER
Multi-purpose for Most Chemistries With
Compact Size
SkyRC T100 is a twin-channel charger with two independent circuits which can charge batteries of varying chemistries (LiPo / LiFe / Lilon / LiHV / NiMH / NiCd / Pb) simultaneously. Its sleek design allows easy front-loading plug-in convenience of balancing and XT60 ports. It is not only compact in size but also powerful in output with maximum 100W charging power and 5A charging current which makes charging more sufficient. With the new AGM and cold charge modes, the user is free to charge their PB and AGM batteries in
cold days.
Twin-channel Charger
SkyRC T100 allows you to plug 2 batteries into one charger simultaneously, and it will intelligently and automatically initiate the charging of 2 batteries at once to their maximum capacity. To top it all, the batteries being charged do not even need to have the same configuration. You can connect different chemistry(NiMH / NiCd / LiPo / LiFe / Lilon / LiHV / Pb)batteries into any of the
charging ports.
Higher Accuracy with Three Decimals for Battery Voltage
The charger firmware is highly optimized by displaying the battery voltage with three decimals during the process of charging & battery voltage measuring.
Battery Icon & Percentage of Charge & Discharge Display
It's more intuitive to indicate the current real-time battery power with the battery icon and percentage of charge & discharge.
Two Channel's Data Can Be Displayed Simultaneously
When the user is charging two batteries simultaneously, both the charging data will be started to display after the two channels have been working for ten seconds. And the user is only allowed to back to the working interface in the channel that started lastly with START/ENTER or channel switch button.
AGM & Cold Charge Modes for PB Battery
SkyRC T100 can charge AGM(Absorbent Glass Mat) )battery and also can be used for charging PB battery at very low temperatures.
Embedded XT60 Battery Connector
By embedding the XT60 battery connector in the charger, it gets more convenient & safe for charging the most popular battery with XT60 connector and avoid the possibilities of reverse polarity for it.
We are Certified,
We are Qualified!
Our products comply with the laws and regulations into each country we ship. Our products are designed, tested and approved to meet worldwide standards for Product Safety, Electromagnetic Compatibility and other regulatory compulsory requirements, when used for their intended purpose.
Specifications
SkyRC T100 is a twin-channel charger with two independent circuits which can charge batteries of varying chemistries (LiPo / LiFe / Lilon / LiHV / NiMH / NiCd / Pb) simultaneously. For Pb battery, AGM Charge and Cold Charge mode are available.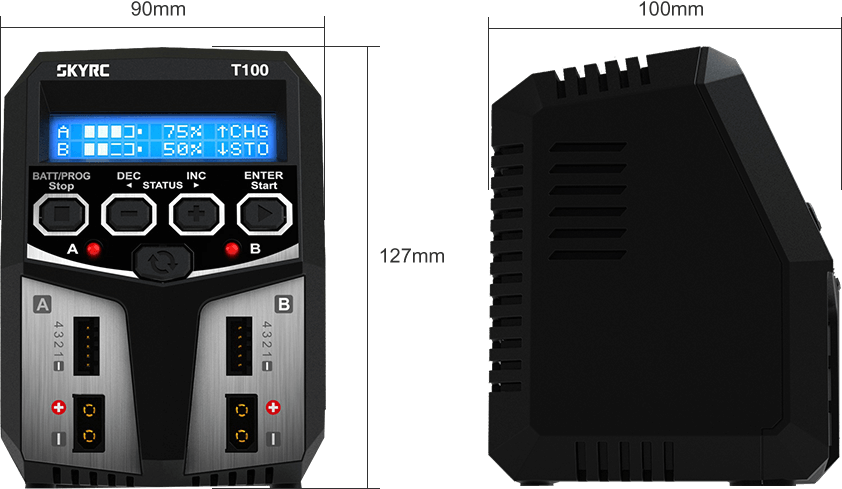 Case Material: Plastic
Case Size: 90x100x127mm
Weight: 500g
Display Type: 2x16LCD
Display Backlight: Blue

Input Voltage: AC 100-240V
Charge Wattage: 50Wx2

Battery Types/Cells:
LiPo/LiFe/LiIon/LiHV: 2-4 cells
NiMH/NiCd: 6-8 cells
Pb:6/12V
Battery Capacity Range:
LiPo/LiIon/LiFe/LiHV:100-50000mAh
NiMH/NiCd:100-50000mAh
Pb: 100-50000mAh
LiPo: 4.18-4.25V/cell
LiFe: 3.58-3.7V/cell

LiIon: 4.08-4.2V/cell
LiHV: 4.25-4.35V/cell
NiMH/NiCd: Delta peak detection: 3-15mV/cell ; Default: 4mV/cell
Charge Current: 0.1A-5.0A
Balance Cells: 2-4 cells
Balance Current: 300mA/cell
Safety Timer: 1-720minutes & OFF
Charge Method:
CC/CV for Lithium batteries.
Delta-peak Sensitivity for NiMH/NiCd batteries.
CC/CV and float charge for PB batteries.