AC/DC DUAL BALANCE CHARGER
Discharger / Power Supply
Voice Guide
DC Power supply 100W/13.8V
Smart phone control
Scan to go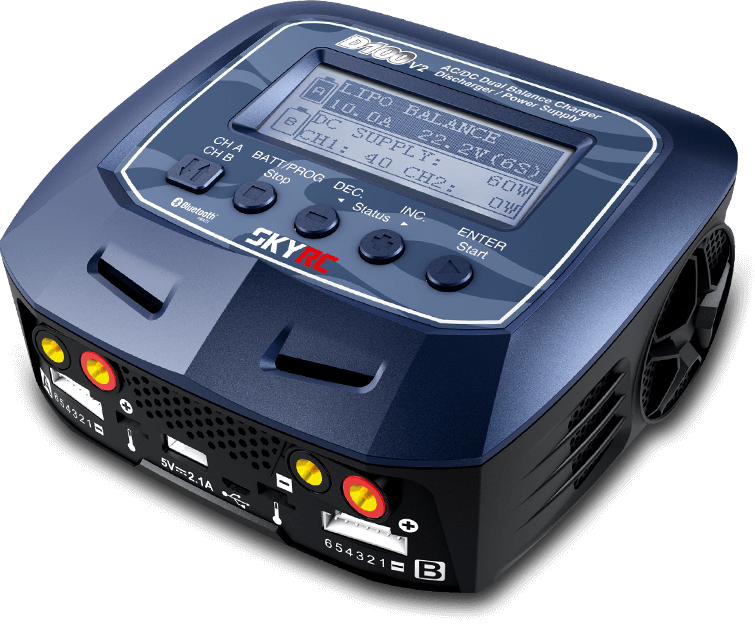 SkyRC D100 v2 is a twin‐channel charger with two independent circuits which can charge 2 batteries of various chemistries (LiPo/ LiHV/ LiFe/ LiIon/ NiMH/ NiCd/ Pb) simultaneously. It is capable of operating as a power supply with the maximum output of 100 watts helps the hobbyists to power the DC equipment. With its unprecedented function of voice guide, even a greenhand can use this charger without any hurdles. Mobile application of 11 languages comes with the useful "Scan to go" function.
Compatible with Various Batteries
With 2 independent circuits, it is capable of charging 2 batteries of various chemistries (LiPo/ LiFe/ LiIon/ LiHV/ NiMH/ NiCd/ Pb) at the same time.
Power Distribution
The charger supports power distribution between CHA/CHB and PSU Within the total power of 100W in AC mode.
DC Power supply

LiHV mode available

Re-peak mode for NiMH/NiCd battery

Two channels charge two different kinds of batteries simultaneously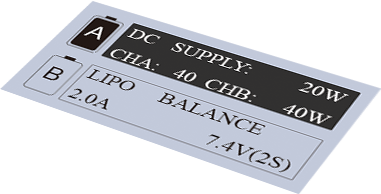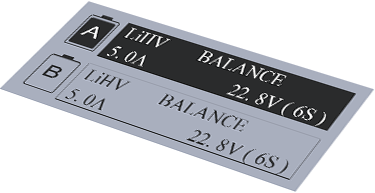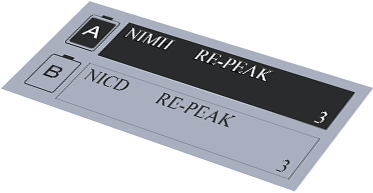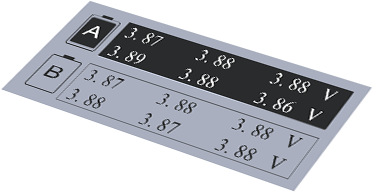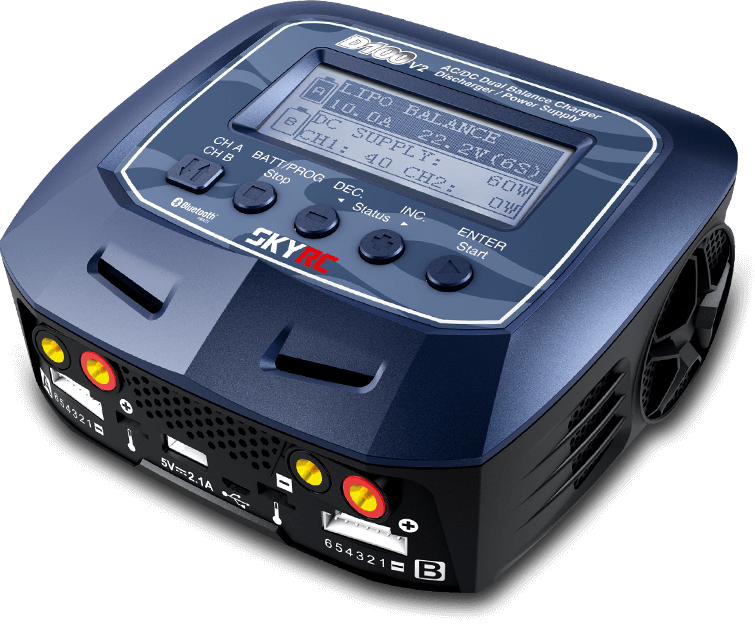 Voice Guide
A speaker loaded with English guidance has been installed which makes the charger more user friendly and helps reducing mis‐operation.
LiHV Mode Available
The LiHV mode is able to charge the new generation of LiPo batteries with a maximum voltage of 4.35 V.

Capable of supplying 100W DC power dramatically expands its usage scope. That is really convenient for drivers to power their DC devices, such as tire warmer, PIT light etc.
Create a QR Code
SkyRC D100 v2 features a unique function of SCAN TO GO. To fully experience that function, a QR code has to be created first inside the SkyCHARGER APP. Follow below video to create the QR code.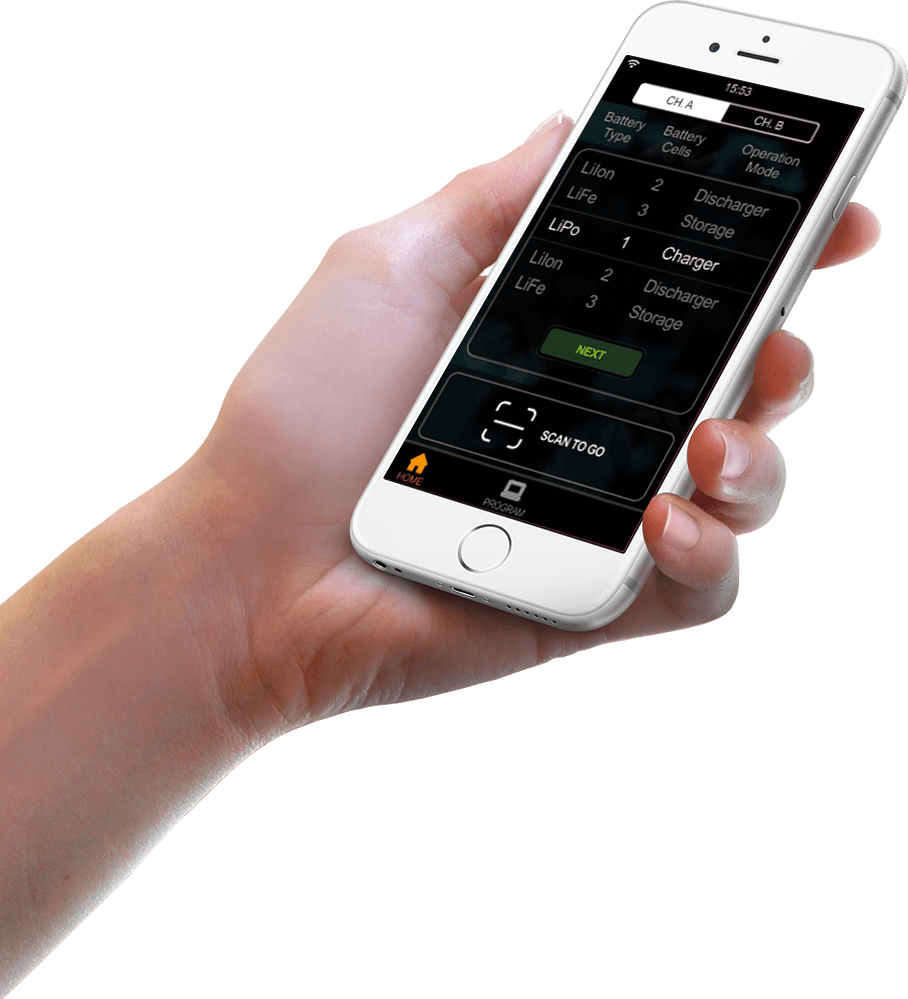 SCAN TO GO
The Bluetooth 4.0 connectivity allows the user to remote control and monitor the D100V2 comfortably through an app on a portable device such as smartphone, iPad, or iPhone. The iOS app can be downloaded from iTunes Store, the Android app from Google Play Store.
PC SOFTWARE
Charge Master 3 can start/stop process, and view real-time graphs of current, voltage, capacity and temperature, also monitor single cell voltage
What's in the Box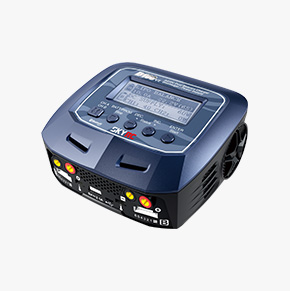 D100 V2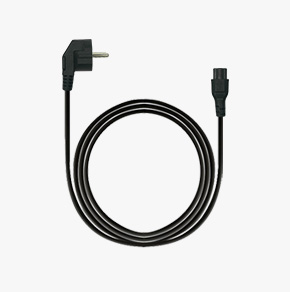 AC Power Cord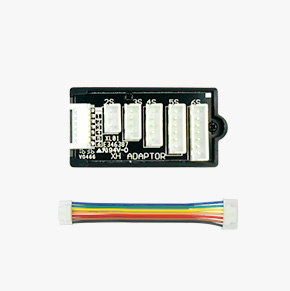 XH Adaptor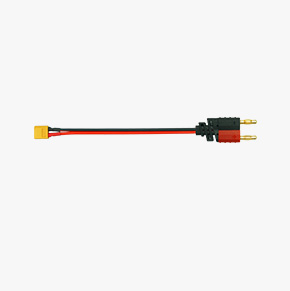 Banana connectors with XT60 connector Charging Cable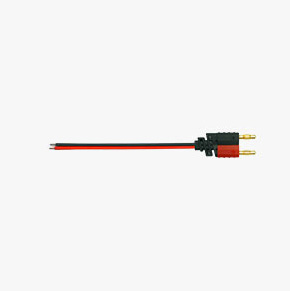 Charging Cable
Instruction Manual
Specifications
AC Input Voltage
100-240V
Charge Wattage
AC 100W(Support Power Distribution)
DC 100Wx2
Charge Current
(0.1A-10.0A) x2
Discharge Current
(0.1A-2.0A) x2
DC Power Supply Output
13.8V / Max. 100W
Current Drian for Balancing Port
300mA/cell
Trickle Charging Current
50mA-300mA & OFF
LiPo/LiFe/Lilon/LiHV Battery Cell Count
1-6S
NiMH/NiCd Battery Cell Count
1-15S
Size
Length : 
140mm
Width  : 
153mm
Height : 
67mm