SkyRC Proudly Delivers
B6 nano
TINY
1/2 Height of iPhone X
The stronger aspiration to develop a better charger for hobbyists is the creation source of B6 nano. In the premise of artistic product design, internal Bluetooth module confers B6 nano on its ability to be
controlled by APP.
With B6 nano, charging becomes faster and
more pleasant.
Capacitive Touch Button
B6 nano adpots touch button, advantages of which are sturdy and durable, quick-responsive and easy operative.Charging is
no more rigid.
Powerful, Tiny,
Smart, that is it!
B6 nano is highly optimized in firmware and structure, while monster power is delivered from such a tiny body. Black screen and touch button contribute to better overall experience on visualization
and portability.
Case Size: 76x85x37mm
Weight: 130g
Powerful and
High Speed
Micro Controller
ARM® Cortex®-M4F 32 bits high speed processor, data process capability improves 20 times. Using industry leading 2.5V-5.5V wide range input voltage, has strong
anti-interference ability.
Smart & Efficient
Cooling System
Temperature controlled 16000rpm high speed sleeve bearing cooling fan effectively blows the air through the extruded aluminum heat sink, effectively
cooling the device.
No more scrolling through complex menu, what you see is
what you need.
Large black screen, active visual size is 50*37.5mm, all information at a glance.
SCAN TO GO
The innovative Bluetooth Smart technology makes controlling your charger a breeze with your smartphones.
To take advantage of B6 nano's full power capability, the power source should be 9-32V DC, and output power should be capable of 380W or higher. Low quality DC power source may damage your B6 nano charger. We recommend you to choose SKYRC 380W Power Supply.


We are Certified, We are Qualified!
B6 nano products comply with the laws and regulations into each country we ship. Our products are designed, tested and approved to meet worldwide standards for Product Safety, Electromagnetic Compatibility and other regulatory compulsory requirements, when used for their intended purpose.

Specifications
This product is suitable for charging and discharging of LiFe/ Lilon/ LiPo/ LiHV/ NiMH/ NiCd/ PB batteries. It has protection functions such as input high and low voltage protection and reverse input and output reverse polarity protection.
Case Material: Plastic
Case Size: 76x85x37mm
Weight: 130g
Display Type: LCD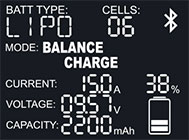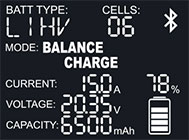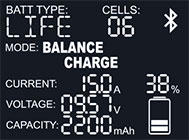 Reading Voltage Range: 0.1-26.1V/cell

External Port: 2-6S Balance Socket-XH,Battery Socket, DC Input
Controls:Three buttons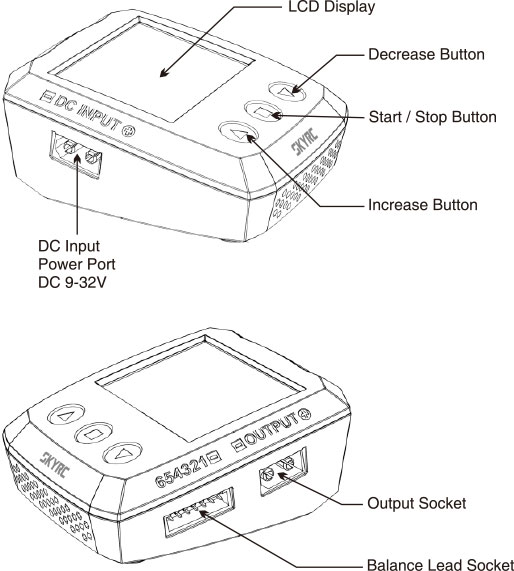 DC Input Voltage : 9-32V
Charge Wattage: 320W
Discharge Wattage: 5W

Battery Types/Cells:
LiPo/LiIon/LiFe/LiHV:1-6cells
NiMH/NiCd: 1-15cells
Battery Capacity Range:
NiMH/NiCd:100-50000mAh
LiPo/LiIon/LiFe/LiHV:100-50000mAh
Pb: 100-50000mAh
NiMH/NiCd: Delta peak detection
LiPo: 4.18-4.25V/cell
LiFe: 3.58-3.7V/cell
LiIon: 4.08-4.2V/cell
LiHV: 4.25-4.35V/cell
Discharge Cut-off Voltage
NiMH/NiCd:0.1-1.1V/cell
LiPo:3.0-3.3V/cell
LiFe:2.6-2.9V/cell
LiIon: 2.9-3.2V/cell
LiHV: 3.1-3.4V/cell
Charge Current: 0.1A-15.0A
Discharge Current: 0.1A-3.0A
Balance Cells: 2-6 cells
Balance Current: 1000mA/cell Max
Safety Timer: 1-720minutes off
Charge Method:
CC/CV for lithium types and lead(Pb) batteries Delta-peak Sensitivity for NiMH/NiCd.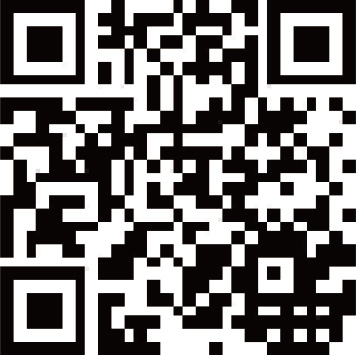 Scan with your Smartphone to download.
Smart Phone Control (both iOS and Android) The free
SkyCharger
App unleashes tons of features and advanced settings, which tremendously expands the user experience of B6 nano.

Supports 11 Languages
Simplified Chinese,Traditional Chinese,English,Japanese,Spanish,Swedish, Polish,French,Czech,Italian,German,Bokmal Norwegian

Bluetooth connection
Bluetooth 4.0, APP support operation, charge and discharge complete push notification, upgrade
Operating temperature: 0℃-40℃
Working humidity: 0%-75%
Storage temperature: -10℃-70℃
Storage humidity: 0%-75%