Built for most demanding pocket charger
Converts standard household power
100-240V
AC to 24V DC power and supply up to 16 amperes of continuous power.
Active PFC
Active PFC is the use of power electronics to change the waveform of current drawn by a load to improve the power factor, thus achieving the purpose of higher efficiency. Active PFC, which is integrated into SkyRC 380W/16A regulated power supply, can provide higher
power utilization.
Universal Operation,
Worldwide Safe
AC 100-240V AC Power input; No need
any voltage converter.
Intelligent Air
Cooling System
Adopting the cooling system, the fan will be initiated automatically when operating temperature reaches 50 degree.
Overload/Error
Indication
The LED indicator turn red whenever equipment connected to the Power Supply is drawing more power than it can provide. The Power Supply may shut down turning off its output in order to protect its circuitry from damage.
We are Certified,We are Qualified!
SkyRC products comply with the laws and regulations into each country we ship. Our products are designed, tested and approved to meet worldwide standards for Product Safety, Electromagnetic Compatibility and other regulatory compulsory requirements, when used for their intended purpose.

Rigorous testing, derived from the pursuit of quality
Each 380W powr supply must experience dozens of more than the industry standard of critical testing. Each rigorous testing and every detailing are the reflections of SkyRC's concentration on products.
Specifications
Converts standard household power 100-240V AC to 24V DC power and supply up to 16 amperes of continuous power.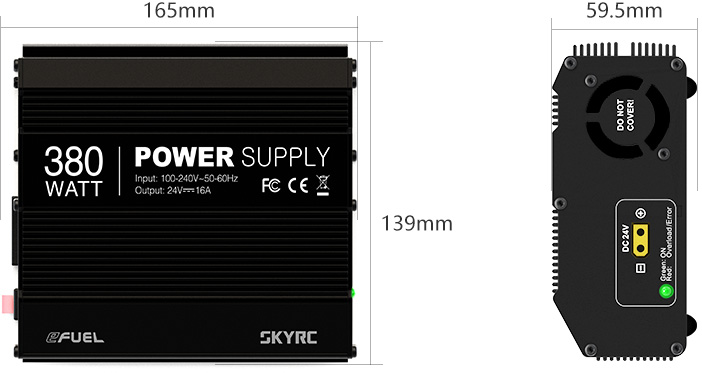 Case Size:165x139x59.5mm
Weight:1.62kg
Voltage:100-240V
Input AC Frequency:50-60Hz
Output Current:16A
Output Voltage:24V DC±0.5V
Output Voltage Ripple:<300mV
Power Efficiency:88%
Power Factor:>0.98

Current Overload Protection:17A ±1A
Over Temperature Protection:<80℃
Cooling Method:Cooling Fan

Operating Temperature:0-40℃
Operating Humidity:0-90%