Agility, Stableness Meet Toughness
SkyRC Super Rider 1:4 Scale Dirt Bike
Feel the thrill of SkyRC Super Rider SR5 - a 1/4 Scale Dirt Bike that stormed the market in 2010. It stands as the pioneer in accurately replicating the complete and exhilarating experience of riding a real motorcycle. Its bold, distinctive, and elegant design continues to captivate RC riders.
This high-performance motocross bike comes ready-to-run with factory-installed electronics for flawless operation and unrivaled stability on any terrain.
Join tens of thousands of riders on this adrenaline-fueled journey where bold design meets unmatched performance. Brace yourself for heart-racing adventures and unforgettable experiences.
Battery and Charger Included
Any Terrain is Your Playground
Let the spirit of adventure guide you, as you venture beyond limits, conquering rugged mountains, vast deserts, and untamed forests.
Experience the rush of adrenaline as you take on diverse terrains, turning every ride into an exhilarating escapade.
Embrace the call of the wild, as your playground knows no bounds.
Mind-blowing Flywheel,
Gyroscopic Wonder
Cradled within the rear wheel lies a substantial flywheel, seamlessly integrated and energized by an independent brushless powertrain.
This mind-blowing combination crafts an entrancing and visually captivating gyroscopic effect, creating a mesmerizing spell of stability for the motorcycle.
As you ride, the dynamic interplay of forces enhances your experience, fostering an unparalleled sense of control and confidence. The flywheel dances in harmony with the motorcycle's motion, unveiling a whole new dimension of riding delight.
Get ready to turn heads and ignite envy as you embrace the embodiment of stability and style.
Four Gears Tailored for
Every Terrain
The flywheel's speed is adjustable in four gears, offering versatile performance. Users can select four kinds of RPM to adapt to the terrains!
Lowering the speed enhances steering and handling on smooth roads, while increasing it on dirt and uneven terrain stabilizes the motorcycle for a more controlled ride.
The motorcycle comes with an onboard button, enabling effortless gear transitions across four RPMs: 8000, 10000, 11000, and 12000.
The button stays hidden, preventing accidental touches.
To be intuitive, distinct beeps reflect each RPM, with 1 beep for 8000, 2 for 10000, 3 for 11000, and 4 for 12000.
0000
RPM
Click to adjust
| Color | Speed | Occurrences |
| --- | --- | --- |
| | 8000 | |
| | 10000 | x2 |
| | 11000 | x3 |
| | 12000 | x4 |
Resilient Stableness
Introducing the SkyRC Super Rider SR5, a motocross marvel equipped with unprecedented stability technology:
Electronic Stability System (ESS).
Scale but Realistic:
Iconic
from Every Angle
By leveraging cutting-edge mechanical and electronic technologies, never before seen in the RC motorcycle world, SR5 faithfully reproduces the true performance of full-size bikes.
Geared up with boots, brain helmet, and super cool sun shades, the rubber-made rider figure is about to match your dirt bike-style stunts: jumps, wheelies, berms carving...
Every detail of this bike has been meticulously designed to immerse you in the thrill of the race. The realistic rider figure and true-to-scale chain drive contribute to its impressive scale appearance.
To further enhance authenticity, SR5 features real-life-scale tires mounted on spoke wheels, ensuring a realistic experience.
The RC bike has never been so real!
Electronic Stability System (ESS).
This revolutionary feature guarantees unmatched stability during your rides. ESS encompasses an electronic gyro housed within the rear wheel, working in tandem with a gyro effect governor. They create a dynamic stability system that keeps the bike running smoothly and securely.
Built with a powerful brushless motor and a flywheel, Electronic Stability System (ESS) integrated into the rear wheel offers customizable RPM settings through an electronic gyro board. Opt for high RPM to experience optimal stability while navigating straight paths, or choose low RPM for enhanced maneuverability during tight corners.
Be ready for an unparalleled riding experience where incredible stableness becomes your ultimate advantage.
Front Pork Suspension
Resembling real motocross, SR5's front fork tubes house internal springs and dampeners against normal RC shocks. The resilient spring allows for ride height adjustments.
Rising-rate Rear Suspension
The rising rate rear suspension system offers a soft initial response for smooth maneuverability and traction at ride height. As the suspension compresses upward, it progressively firms up to provide optimal preload for launching jumps and prevent impact bottoming during landings.
Excellen Head Angle
After months of rigorous testing, we settled on an excellent head tube angle that offers an optimal balance for handling bumps, landing jumps, steering input, and effectively controlling "head shake" across diverse terrains.
Aluminum Chassis
Realism and durability are enhanced rwith the aluminum plate chassis.
Efficient Chain
The highly efficient and reliable chain drive system plays a vital role. Comprising sturdy steel links and roller pins, the chain wraps around a robust 10-tooth steel drive sprocket and a durable aluminum hub sprocket. This thoughtfully designed chain drive ensures optimal performance, allowing the rear tire to maintain traction and power.
Mighty Chains
Mighty Ride
The chains on this scale motorcycle are more than mere mechanical components; they represent the essence of engineering excellence and the pursuit of unbridled speed in a compact form. Through careful design, precision alignment, and regular maintenance, these unassuming links work tirelessly to unleash the full potential of this pint-sized marvel. From their lightweight construction to their symphony of motion, the chains on the scale motorcycle intertwine function and art, embodying the unshackled spirit of the open road on a miniature scale Be ready for an unparalleled riding experience where incredible stableness becomes your ultimate advantage.
From their lightweight construction to their symphony of motion, the chains on the scale motorcycle intertwine function and art, embodying the unshackled spirit of the open road on a miniature scale
Art of Suspension Mastery
Crafted with precision engineering and attention to detail, the SR5 boasts an unrivaled suspension system that sets it leagues ahead of the competition.
Inspired by the formidable prowess of full-size motorcycles, the SR5's suspension has been meticulously designed to replicate the handling characteristics of its real-life counterparts. From conquering rough terrains to soaring over jumps with finesse, the SR5's suspension delivers an authentic and exhilarating riding experience like never before.
Built with passion and innovation, the SR5's suspension system has been engineered to push the boundaries of RC biking, offering versatility for riders of all skill levels. Whether you're a seasoned pro or a beginner in the hobby, the SR5's suspension empowers you to confidently explore and excel on any track or trail.
Traction Unleashed:
110km Tire
The SR5 features a high-performance up to 110km speed tire, delivering exceptional performance on full-scale moto tracks worldwide. With its impressive grip and extended tire life, it ensures an outstanding riding experience.
Built to Last:
Conquer Every Terrain
This motorcycle's endurance is a testament to its robust construction and quality craftsmanship. It's a reliable companion for any adventure, designed to conquer long rides and challenging conditions.
With durable components and an expertly engineered frame, it withstands miles of riding without faltering. Whether on highways, off-road trails, or in adverse weather, the motorcycle's unwavering endurance empowers riders to explore the world with unwavering confidence.
What's in the Box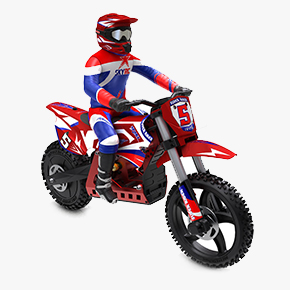 sr5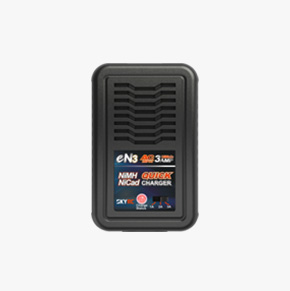 eN20 Charger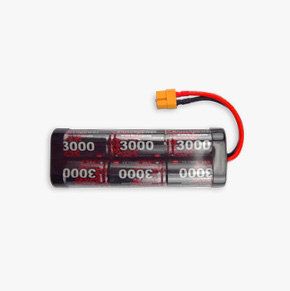 NiMH Battery (6S, 3000mAh)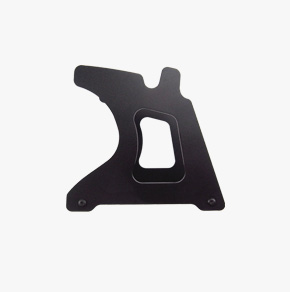 Support Bar x1 pair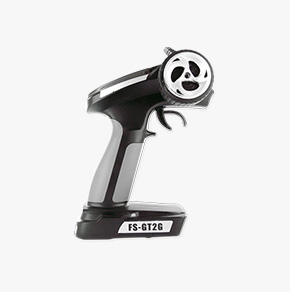 Transmitter x1 pc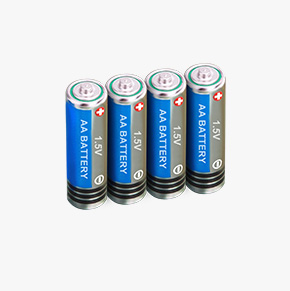 4 AA Battery for Radio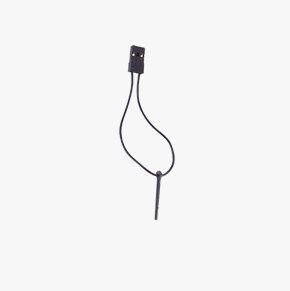 Pairing wire x1 pc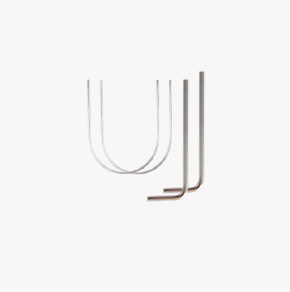 Support Bar x1 pair
Wrench x2 pcs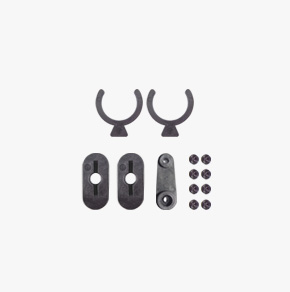 Other Accessories
Instruction Manual
Specifications
Motor
540 Brushless 3200KV
2.4G Radio
Support 6-8S NiMH / 2-3S LiPo
Rear Oil Shock Absorber
High-Torque Servo