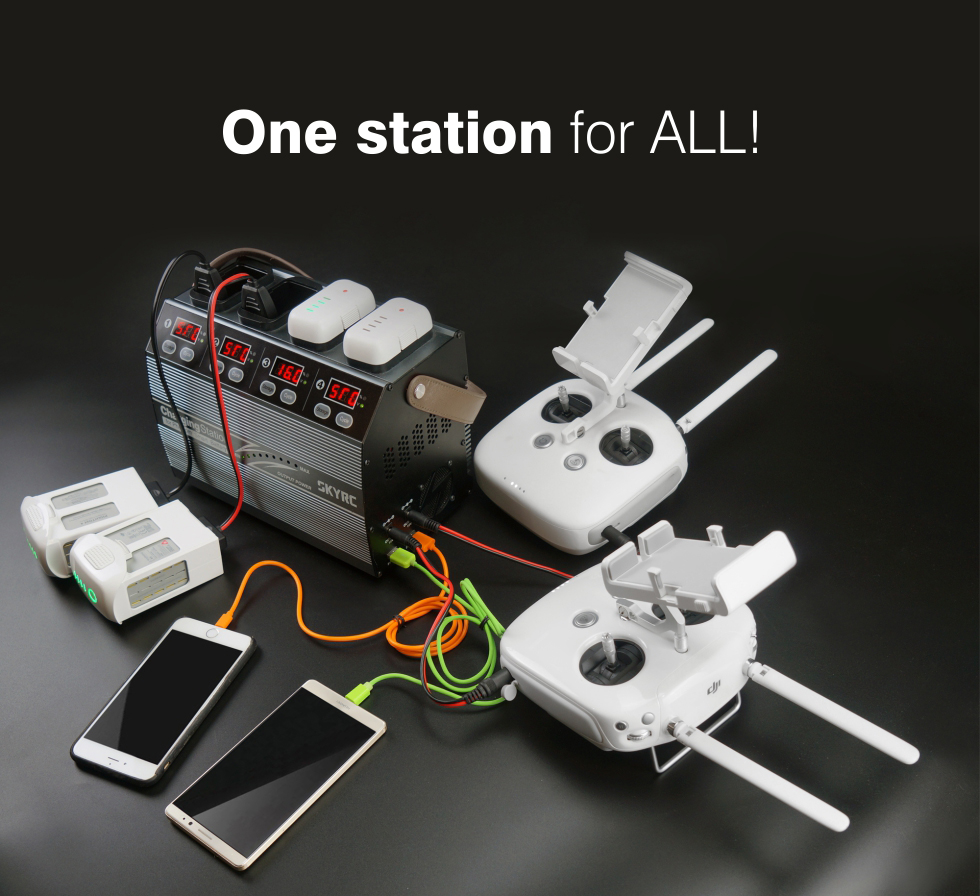 Charging Station for Phantom 3 & 4 Smart Battery
The SkyRC 4P3 charging station allows pilots to charge/ storage/ cycle 4 sets of smart batteries (for Phantom 3 and Phantom 4) at the same time with maximal power 100 watts per channel. Moreover, it can charge 2 radio controllers and 2 tablets/ smart phone in the same time.
PU handle
PU handle for easy carry
3 working modes
Charge, Storage, Cycle
3 built-in fans
3 built-in fans for
maximum ventilation
USB Output
5V/2.1A USB Output to charge
smartphones/ tablets
DC Outputs
19V/2A DC outputs to
charge remote controllers
Built-in AC Adaptor
100-240V AC input for
worldwide use.
4 channels
4 channels to charge
4 smart batteries
simultaneously
Power Output Display
9 leds to indicate the
output power from
minimum to maximum
8 LEDs & 12 digitrons
8 LEDs & 12 digitrons to
present charging status/
charged percentage/ voltage
Charged Percentage
Battery Voltage
Cycle Button
Storage Button
Output Power Indicator
Battery Slot
Digitron
PU handle
Cooling Fan
Power Switch
AC Socket
Value Added Function
2×19V/2A DC outputs for charging remote
controllers. 2×5V/2.1A USB outputs for
charging smartphones/ tablets.
Charging Port
for Remote Controller
USB Power
for Smart Device
Built-in Adaptor
Built-in 100-240V AC/DC power
adaptor for worldwide use.
Smart Ventilation
System
3 built-in smart cooling fans for maximum
heat dissipation.
No more painful
waiting! 100 watts x4 power fast charge,
give you more flight time!
PU handle
Heavy, but portable with handle.
Digitron & LED
8 LEDs indicate display contents,
charged percentage or voltage. 12
digitrons present working modes,
charged percentage or voltage.
Charging Phantom4
battery Cable adapter for charging Phantom4
battery is available as optional part .
Dimension

Net Weight
3.22kg
Input Voltage
AC 100-240V
Charge Power
100W x 4
Charge Current
6.0A
USB Output
5V/2.1A x2
DC Output
19V/2A x2
Working Mode
Charge Mode
Storage Mode
Cycle Mode