MOTOR AND ESC 2 IN 1
Motor-X2205E
Features
oneshot and damping light enabled.
twisted signal cable effectively reduced the signal cross-talk making the plane more stable.
genuine NMB bearings,smoother and quieter rotation.
0.2mm ultra-thin silicon steel laminations, low eddy current loss.
balance calibration to ensure best concentricity.
Violent
2400KV super-fast motor, 25A high burst current ESC.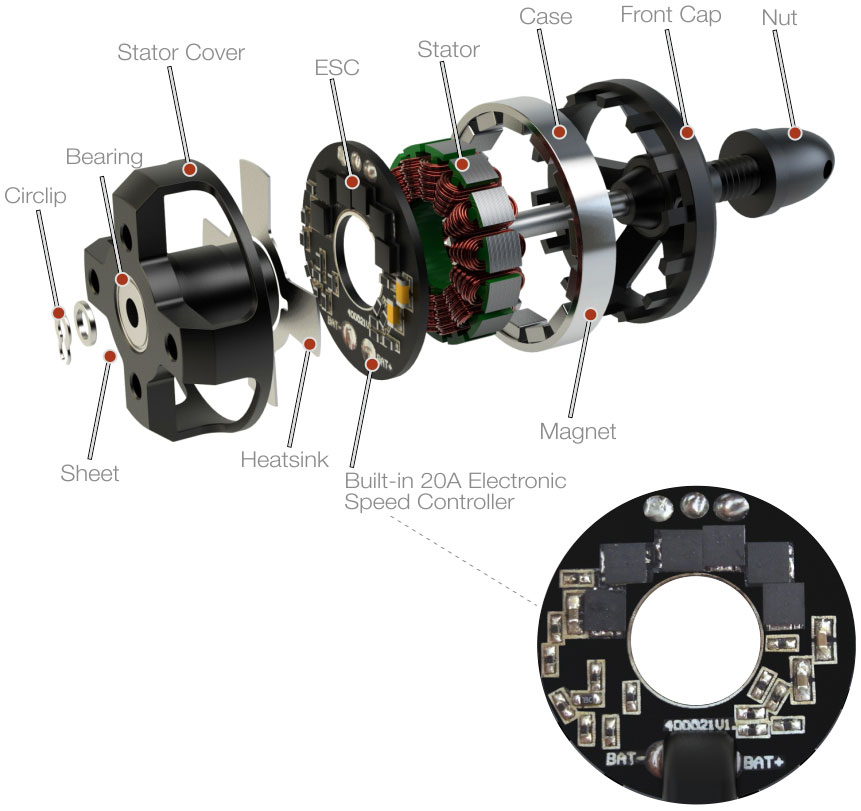 Dimensions
Four Mounting Holes Suitable for Various Frames.

| Throttle Rate(%) | Current(A) | Power(w) | Efficiency(G/W) | Speed(RPM) |
| --- | --- | --- | --- | --- |
| 25% | 3.2 | 38.4 | 3.10 | 8245 |
| 50% | 7.6 | 91.2 | 2.7 | 11580 |
| 75% | 12.1 | 145.2 | 2.80 | 14602 |
| 100% | 20.4 | 244.8 | 2.64 | 17486 |
| | | | |
| --- | --- | --- | --- |
| | KV(RPM/Volt) | | 2400KV |
| | Rotor Poles | | 14 |
| | Voltage | | 2-3S LiPo |
| | Stator | | 12 |
| | Burst Current | | 20A (MAX) |
| | Resistance | | 0.065Ω |
| | Weight | | 38g |
| | No Load Current | | 0.9A@12V |
| | Length | | 34mm |
| | Shaft | | Φ3mm |
| | Diameter | | 28mm |